This girl group are made up of 15 year old twins Natalie and Danni-L and best friend Sophie, also 15. The Sexy Trio have made a real impact on the audiences that they have played too.. With crowds up to 1,500 in places such as The Brentwood Centre and Picketts Lock in Enfield - As well as an appearance on Telewests TV Show - Get A New Life.
Exclusive Inspiration Photos - Click here
* Click Here To read Our Exclusive Inspiration Interview *
The girls have been together for nearly 2 years and manage all their own choreography, as well as having a Demo Cd containing 4 excellent, original songsand each one shows off the girls great voices and the unique style.
Each song on the Demo is different, from a Very "Steps" sounds Promises your Heart Cant Keep, to a very soulful sounding Do You Remember.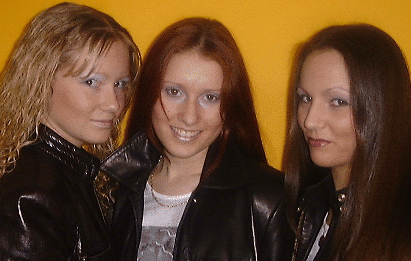 Jump-Start wish the girls every success.. and are sure that World Fame will soon be coming the girls way!
Click here for a Exclusive reviews of their Rollers Gigs
Click for the Girls official Site
Click Here For The Girls Official Yahoo Club