* More * Junction 9 * Anything Once * Gaime *
More are a 4 piece band preparing themselves for World Domination - planning to ride high in the Charts both in the UK and Globally. Stayc, Alex, KC and Gareth already have a huge fan following,and are searching for that all important Record Deal! Hailing from Tauton in Somerset, the band have been friends since they were at school (and Alex and StayC are Brother/Sisters) and are sure to be huge!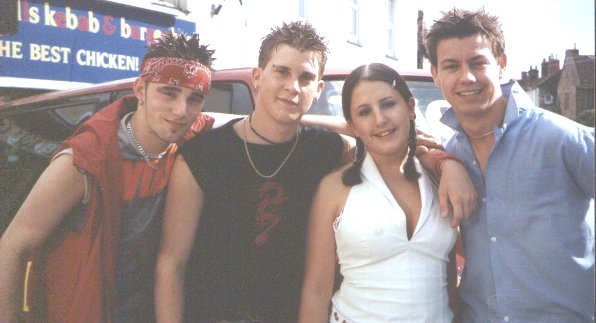 L-R : Alex, KC, Stay-C and Gareth!
Click here for Photos Of The Band at a Recent Street Festival! * Exclusive *
Check Out Their Official Website* Unofficial More Chat Yahoo Club * Sexy More, Website
They Choreograph all of their own amazing Dance Routines, They Have high energy songs and put there all into every single performance, There Fan base is continuously growing and In Jump-Starts opinion, Its a mystery as to why this band havent yet been signed up, and we're sure its only a matter of time before the band get the record deal theyre waiting for!
For Loads More Wicked Photos of the Band, Check out More Mayhem