* Inspiration * Felony * Nex-Us *
Inspiration are one of the 1st Bands that we ever featured on Jump-start and as you can see, The Girls have achieved so much since then. Now 17 years old, The girls have a deal with legendary producer Barry Upton, and have played at some amazing Gigs... Including the Roadhouse in Londons Covent Garden..
The Band have been really busy - In the Studio recording some more amazing Pop Tracks, and playing at Summer Roadshows all over the country!
Click here from Pics of the Girls @ the Active FM Roadshow * New *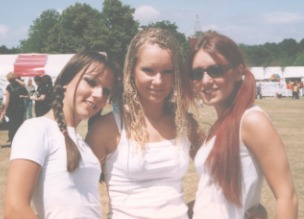 Jump-Start wish the girls every success.. and are sure that World Fame will soon be coming the girls way!
Click here for a Exclusive reviews of their Rollers Gigs
Exclusive Inspiration Photos - Click here
* Click Here To read Our Exclusive Inspiration Interview *
Click for the Girls official Site