* Inspiration * Felony * Nex-Us *
Aimee and Gemma make up - very sexy new Girl band - FELONY! The 2 Best Friends first got it together as members of another Band - But decided that a 2 piece band was the way to go! They have just put the finishing touches to new track SHOULDER TO CRY ON - and the gigs have started to pour in!
Aimee is just 16 - But has been singing for most of her life - First taking it seriously when she turned 14 - Shes done loadsa gigs as a soloist, and is now focusing all her creativeness into FELONY, Along with Gemma who is 19, Was once Posh Spice in a tribute band and has done some modelling - The girls make the perfect team, and we're sure all their dreams will come true!!!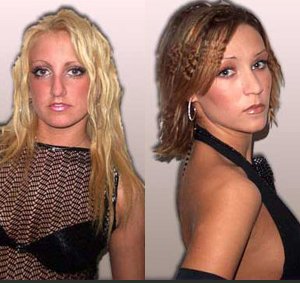 Click her to Read Our Exclusive Chat with the Girls
See Our Exclusive Photos of the Girls by clicking here
We were lucky enough to meet up with the girls, at a recent gig of their at Chelmsoford, and we were overwhelmed and how nice the girls were.. Bubbling with personality, The girls made friends with everyone that they met and ofcourse wowed the crowds once on stage with their amazing songs!
www.felony-uk.com and www.felony-uk.co.uk for Fab News, Pictures and more!!