Ice * Boysterous * 4orce * InFocus * Down 2 Earth * 3rd Element * The Magnets * Busted * Bak 2 Bak * Heat * Absolution *
New Boyband Boysterous were brought together by an Internet Magazine, members were voted into the band, by thousands of admiring fans.. They may have only been together a short time, But they're already causing a massive stir on the Internet, Infact - Theyre causing such a reaction, That Jump-Start could not ignore them - and had to check them out!
We went along to their very first photo shoot - To be greeted by 4 very quiet lads - This was their first Band outing and the first time, they had met any of the fans - However that soon changed, and their very funky Personalities soon shone through!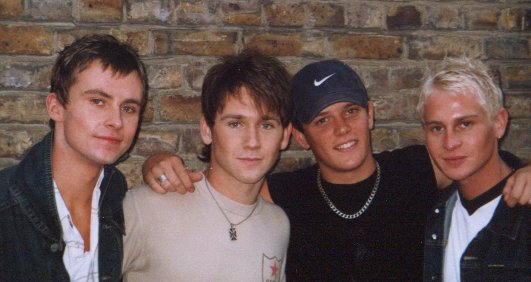 L-R: Gary, Chris, Mike and Mitch!
So that we could give you all a proper review, We thought it was best to hang around the whole day, and see what they were really like! (The Fact that we were spending the day with 4 Sexy, Young Lads, had nothing to do with the decision!)
They finished the Photo shoot - To Be greeted by an Army of new fans - and spent over an hour with the girls that had turned up to see them - Making some teenage girls - Very Happy!
Mitch, Chris, Gary and Mike have yet to do their first Gig - But we're assured that its going to be something very special! They have exactly all the qualities a boyband need - Good Looks, Cheesey Smiles and wicked personalities! From what we have heard their songs are excellent, and from what we have witnessed from the fans - Its best to :
Keep An Eye on Boysterous - coz theyre going to be around for a very long time!